Acqua San Carlo gushes forth free in the Park of the Apuan Alps in Tuscany, in the UNESCO World Heritage Geopark. The water has a low mineral content, is microbiologically pure and has a low fixed residue (63 mg/l), and for this reason it is light and very pleasant to the taste. It is characterised by a constant flow, temperature, and is defined as "histophilic", as it performs an effective detoxifying action on the tissues.
With its light taste, it is the ideal table water, capable of leaving the gastric pH unaltered and containing a quantity of oxygen dissolved in the water useful for cellular metabolism. The sodium/potassium ratio superimposable with that of human plasma guarantees a profound purification, making this water a valid ally of the skin and tissues.
For years, Acqua San Carlo was bottled exclusively in glass containers, in respect of the environment and of nature. Glass bottles are 100% recyclable. The formats produced are 25 cl, 75 cl and 100 cl, natural as it gushes forth or with the addition of carbon dioxide.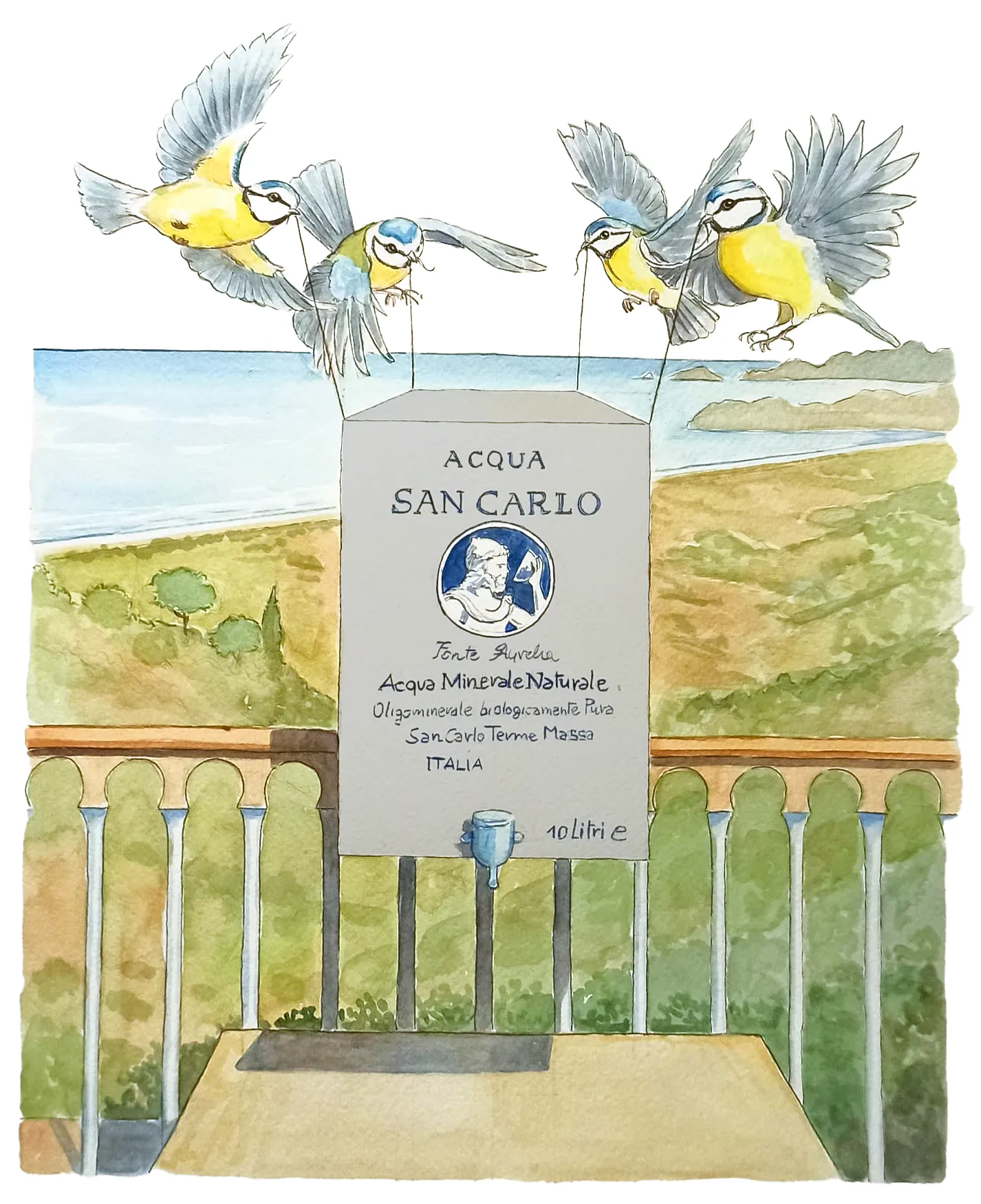 Simple packaging for an extraordinary water.
The Acqua San Carlo BAG-IN-BOX is the great novelty of 2023 signed San Carlo: still water in the 10-litre format, practical, easy to transport.
Note that the entire bag in recyclable plastic, including a tap, and with a 10-litre capacity, weighs definitely less than a single 2-litre plastic bottle.
THE PERCENTAGE OF WATER VARIES IN THE TISSUES AND ORGANS OF THE BODY
Water is distributed differently in our tissues and in the organs of our body, as illustrated in the following diagram.
Acqua San Carlo is a histophilic water, which is to say that it is indicated to perform an effective detoxifying action of the tissues. Studies show that when consumed regularly every day, it helps to cleanse and regenerate the body.
Start and end your day with a glass of Acqua San Carlo water.
Drink throughout the day, anticipating thirst
Keep water within reach at all times during the day
Learn to drink more water
Water is a fundamental element for man; it indeed represents about 70% of the human body. As many of you know, it is recommended to drink at least two litres of water a day. An adequate hydration plays an important role in supporting life, as it does in maintaining weight, as water helps to fight excessive weight and obesity. So our advice is to learn to drink more water!